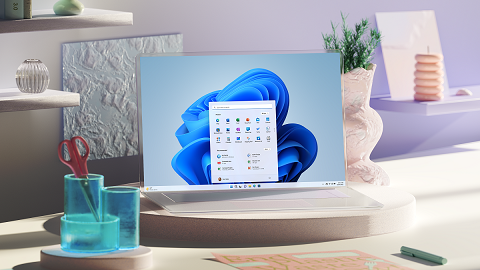 The first major update is here windows 11, almost a year after its release. This new version, which is launched in more than 190 countries, aims to go one step further in security, accessibility, productivity, flexibility and leisure, depending on the company.
What news does Windows 11 2022 Update bring?
In recent years, the PC has become essential in the lives of many people. However, with the rise of hybrid or remote work models, cybercriminals have redoubled their attacks, both in the workplace – with 921 password attacks every second – and in the personal sphere. Therefore, with the aim of adapt to the new reality, Microsoft releases the first major update to Windows 11, which includes the following new features:
Easy to use: Windows 11 brought an intuitive design that was intended to simplify its use for everyone. Now, along these lines, the update includes new features to anticipate user needs and save time in their day-to-day activities: new features in the Start menu, faster and more accurate search, faster setup, and improved tracking of current and local events in the Widgets dashboard.
New accessibility features: Windows 11 2022 Update now has system-wide live captioning, which are automatically generated from any audio; voice access, which allows control of the PC; or a more natural narrator voice, creating more pleasant audio to help read or surf the web.
More security: Online security and the privacy of your data are the main concerns of users today. Windows 11 is the most secure version of Windows to date, and with it, Microsoft introduces intelligent app control so that the user can more confidently download any app.
Productivity boost: With improvements to Snap layouts, the new feature focus and performance and battery optimizations, the new Windows 11 update helps the user to be more productive. Snap layouts in Windows 11 are used to optimize your screen view when you need to view multiple apps or documents at the same time. With this update, layouts are more versatile, with better touch navigation and the ability to fit multiple browser tabs in Microsoft Edge. In addition, the system now incorporates focus sessions and "do not disturb" to minimize distractions, so when you start a new focus session, Windows will turn on do not disturb, muting notifications, and turning off taskbar badges. focus it also integrates with the clock app, launching a timer to help the user focus, even reminding them to rest.
The best place to connect: Video calls have become one of the essential tasks of everyday life. Therefore, Microsoft has added improvements to increase its quality: the new Windows Studio camera app and new sound effects provide a better experience powered by Artificial Intelligence. Among the functionalities stand out VoiceFocus, to filter out background noise and give prominence to the voice; background blur, which offers a more professional experience; Eye Contact, to make interaction between people more natural by maintaining eye contact between them; and the auto framingwith which the image displayed by the camera follows the user as they move.
The best space to create and play: With creators and their needs in mind, this new version of Windows 11 adds creation tools such as clipchamp, which makes video editing easy, with templates, effects, and more. And for gamers, it also includes performance optimizations to improve latency and take advantage of features like Auto HDR and VRR (Variable Refresh Rate). With Game Pass built into Windows 11 through the Xbox app, gamers can access hundreds of high-quality PC games. For a deeper dive into what's new in the games, visit Xbox Wire.
The preview version of the amazon-appstore lands in more markets, carrying more than 20,000 Android apps and games to Windows 11 devices that meet the hardware requirements. Furthermore, the pilot Microsoft Store Ads takes a new step to help developers reach the right customers. To learn about upcoming features of the Microsoft Store in Windows.
More safety, efficiency and flexibility in the workplace: To meet the needs of an increasingly complex work environment, the Windows 11 update offers new security features and new management tools. The new Microsoft Defender SmartScreen identifies when people enter their Microsoft credentials into a malicious app or hacked website and alerts them.Windows Hello for Business now has a new presence detection feature, so that devices equipped with specific sensors and Windows Hello securely log in when the authorized user approaches and lock them out when they leave.SmartApp Control, based on the same AI used in Windows Defender Application Control, blocks malicious apps and scripts from running. Additionally, you can predict the security of an application in real time before it runs on a device.
Environmental care: Within Microsoft's commitment to sustainability, this new version of Windows 11 takes into account carbon emissions in the area where we are. With this information, it is able to schedule installations on those specific times of the day when fewer emissions occur, transferring excess energy consumption to the time when energy production comes from a greater proportion of renewable sources. In addition, the company has also made some changes to the default power settings for sleep mode and screen off, with the aim of helping reduce carbon emissions when computers are idle.
News from October
In addition to these new features, which can already be enjoyed in the new Windows 11 2022 update, more features will arrive from October such as:
File browser improvements, including the addition of tabs to help the user organize their sessions like they do in Microsoft Edge. The new file explorer home page will give quick access to favorite and recent files; It will allow you to pin important files for quick and easy access, including information about the actions that other users perform on files shared through OneDrive; and will provide personalized suggestions based on your Microsoft 365 account.
Photos app: Microsoft will introduce a new photo management experience with a gallery that makes it easy to browse, search, manage, and view your photo collection. It will also make it easy to back up photos with OneDrive, enjoy powerful experiences on Windows devices, and the "Memories" feature.
Suggested actions when copying: When copying, for example, phone numbers or dates, the user will get suggested actions such as making a call through Teams or adding an event to the calendar.
Taskbar Overflow: The taskbar will provide an entry point to an overflow menu, allowing you to see all of your overflowed applications in one space.
Share with more devices: Starting in October, users will also be able to share with more devices, including desktop computers, using the "share" function.