Analia Llorente
BBC News World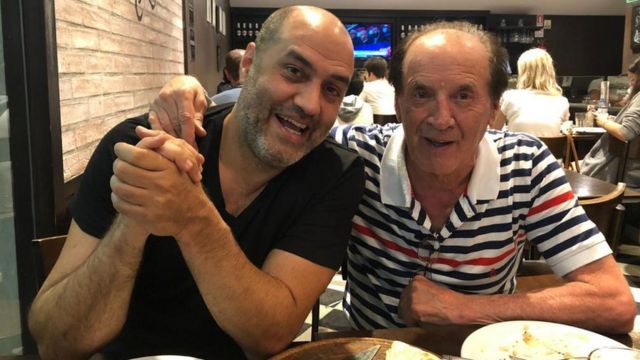 Marcelo Salomone likes to talk about the weather and anecdotes.
This 50-year-old Argentine is the eldest son of Roberto, who was diagnosed with Alzheimer's disease a couple of years ago.
Currently, more than 55 million people live with dementia worldwide and there are almost 10 million new cases each year, according to data from the World Health Organization.
Alzheimer's is the most common form of dementia, with between 60% and 70% of cases attributed to this disease.
Marcelo says that his father was always absent-minded, "disheveled" as they say in Argentina, that's why the family didn't realize at first that something was wrong.
Until one day Roberto got lost while driving and ended up in front of the house he shared as a young man with his wife Susana and their four young children, in Martínez, north of Buenos Aires.
Then came the concern, the medical studies and the diagnosis.
Marcelo assures that the day he found out that his father had Alzheimer's he made a anticipated duel. Since then he tries to enjoy the time with his father as if it were the last day.
As part of World Alzheimer's Day, this September 21, Marcelo tells BBC Mundo about his experience with early grief.
I have four children, three brothers and a living mother and father. Dad, whose name is Roberto, he has… since he was 70 I am no longer aware of how old he is. I lost count and I think it's on purpose, because I freeze it in time.
I always tell the story of when I discovered his first gray hair swimming together in the pool. And I said, 'Daddy's getting old.' He was 40 years old. And when I saw my first gray hair on my chest, I said: 'Wow, I've reached that moment'.
My dad was diagnosed with Alzheimer's two years ago. According to the doctors, he is in the beginning process, which is good for medicine because they attack the disease with different medications, exercises, etc.
One never imagines -or does not want to imagine- that it can become that. Dad was always very distracted, he always had memory problems. For example, he would leave a coffee warming up and forget about it. Those things were becoming more and more pronounced.
The one who noticed the most was mom, who lives with him. Later she began with some symptoms that are characteristic of the disease, such as, for example, keeping money that my mother later found in a strange place.
The clue that led us to look for a specialist was when dad got lost one day with the car and appeared in Martínez, in the house where we lived when we were kids.
I think if Dad hadn't had that quality of forgetfulness and these recurring distractions, he would have caught our attention a lot sooner.
Since we were told that he has Alzheimer's, there have been different phases. He realized that we began to accompany him to the doctor, that he forgot things. When he lost his orientation to time and space, he worried that he couldn't control it.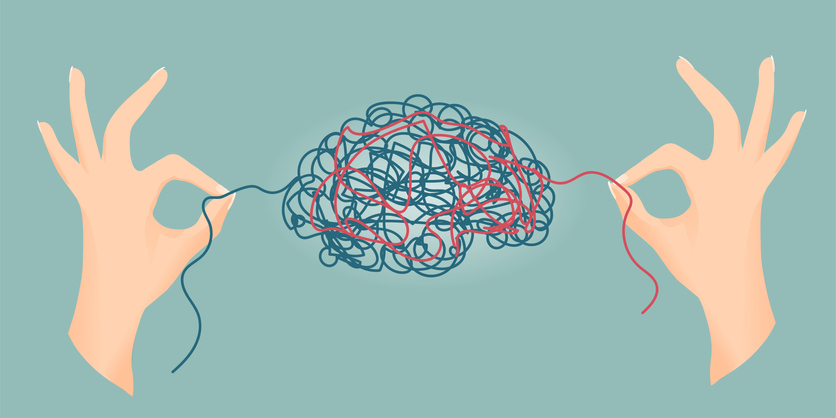 Getty
I mourned because I had to understand that from that moment on, dad was no longer going to be the same dad he was."
That made me start to get a little depressed. Dad was always the opposite, a fun, mischievous person. He doesn't look like he's as old as he is. He always behaved like a child and still does.
There is another beautiful story. We did a kind of baby shower because my sister is pregnant and we fill the house with balloons. My parents arrived and when I go to open the door, my old man tells me: 'Happy birthday!' I look at him surprised and he starts laughing. 'Pa! Never lose that sense of humor,' I told him. He takes it like this. That's my dad.
"My dad would no longer be the same"
The day they told me I had Alzheimer's, I knew my dad would never be the same. I needed confirmation from a professional. That was a break.
I grieved for my dad the same day we were told he had Alzheimer's. I mourned because I had to understand that from that moment on, except when joking, Dad was no longer going to be the same dad he wasbecause it has these lapses where it turns off.
The most important thing is to understand that he is sick and accompany him. Be more sensitive, have more patience and be more positive.
I think there are different duels and the positive and constructive duel is that. My daughter Milagros gave me a phrase that she heard from an actor: 'ANDmourning is the perseverance of love'.
So I cried all I had to. That doesn't mean that today I don't get emotional or cry when I talk about him. But I did the strong duel before because now you have to accompany and make him feel that he is still the same.
You have to understand that sometimes life is like that. I believe that beyond any religion or belief, human beings still do not process that we are passing through. That would make everything much easier.
The duel that does not build I already did. The question 'why is this happening to me?' It's that selfish crying I try to avoid. I'm going to cry as much as I have to, but I'm going to face what I have to face and I think that allows the relationship with dad to be more open, more sincere, more love.
In this way you are not in a feeling of anger or pity, but you are accompanying so as not to miss anything from your old man.
Once I read a book -I have a bad memory, I also got that from my old man- that talks about a tribe that believed that the next day they would wake up dead.
What it teaches you is that all the problems that a member of the tribe had with another was fixed, because the next day they all woke up dead.
This is how words such as resentment, revenge, pride end and you live in another way. That marked me a lot. I try to imaginarily belong to this tribe that tomorrow will wake up lifeless.
"Accompany"
He found out a long time later that he has Alzheimer's. The doctor said it was the family's choice to tell him what he had. Mom thought it was for the best, that she didn't want to lie to him.
The doctor had also told us that the most affected person, beyond the patient, is the one who lives with him daily. He recommended that we be very careful with my mother's health and that we all be more present in family life.
So I try to make time for the important things, the ones that make you happy or the ones that can make someone else happy, in this case my dad. I accompany him to the doctor as often as I can, we have coffee and talk about the disease face to face, when he is not feeling depressed.
And here the subject of the company is very important. Mom says that he looks great the days before, the day itself and the days after we're all together.
We try to recreate those moments as many times as possible and there he jokes like on the day of the baby shower. I want to stay with that. That's my old man.
for my profession [periodista] I have read everything about Alzheimer's, so I know that there are stages and you have to go along. So I decided in that first stage to do my personal duel.
I never lose hope that some medication or some therapy will come along and it can be stopped definitively. I will never lose that.
But I try to highlight the importance of time. Each person has the time of it. My grief, as soon as I found out about my father's illness, is not an example. It was my time. But, at the same time, I try not to lose it [al tiempo] to be able to accompany my dad.
anticipated duel
By Mónica Moreno, Director of Care and Support, Alzheimer's Association
Anticipatory grief is very common among people who accompany patients with dementia. In essence, families experience the gradual decline of someone they love.
People living with Alzheimer's disease and other dementias live 4 to 8 years, on average, after a diagnosis.
As the disease progresses, family members experience multiple losses: the person's inability to live independently, the person's inability to remember the names of close family members or important family events.
Finally, in the later stages of the disease, the person loses the ability to communicate.
Grieving these dramatic losses over an extended period of time can be overwhelming and put incredible pressure on families.
Caregivers need to understand that it is completely normal to mourn these losses. Feelings of anger, guilt, and sadness are common during this difficult time.
However, it is important for caregivers to know that help is available. Alzheimer's Association offers a helpline.
There are also support groups where they meet other families who are going through a similar situation. Sharing the experience with dementia can be very beneficial.
Being an informed caregiver is one of the best gifts for someone living with Alzheimer's and other dementias.
The more you know about the disease, its progression, and what to expect, the better prepared you will be to deal with its challenges and the wide range of emotions that accompany these changes.
Remember that you can receive notifications from BBC News Mundo. Download the new version of our app and activate it so you don't miss out on our best content.