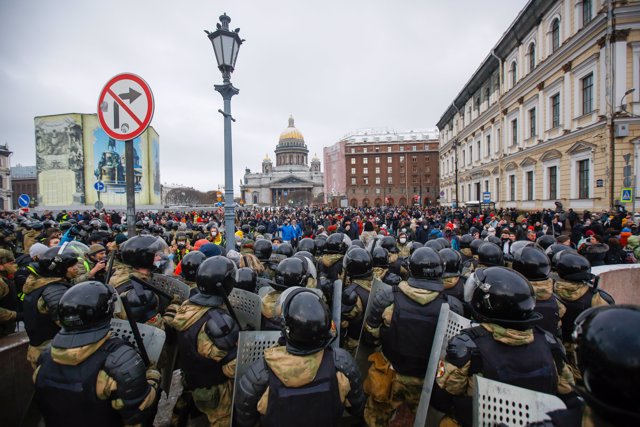 Russian National Guard blocks a street during a demonstration against the arrest of Russian opponent Alexey Navalny in Saint Petersburg. Sergei Mikhailichenko/SOPA Images via ZUMA Wire/dpa – Sergei Mikhailichenko/SOPA Image / DPA
MADRID, 21 (EUROPE PRESS)
More than 200 people have been arrested in at least 20 Russian cities for allegedly participating in protests against the mobilization of reservists announced Wednesday by Russian President Vladimir Putin.
The civil rights organization OVD-Info has already begun its own count of the demonstrations and has been able to confirm at least 219 arrests, although the figure is expected to increase due to the calls for this afternoon.
Accounts linked to the opposition in Russia, including those of the opposition leader Alexei Navalni, have released videos that supposedly show these first protests.
The Moscow Prosecutor's Office has gone ahead to warn that participation in the demonstrations or the mere dissemination of the calls could constitute a crime, after the first appeals have been published on the Internet.
The Public Ministry has stressed that these mobilizations have not been coordinated with the relevant authorities, who must give permission to any action of this type. The Russian authorities do not authorize any concentration contrary to government guidelines.