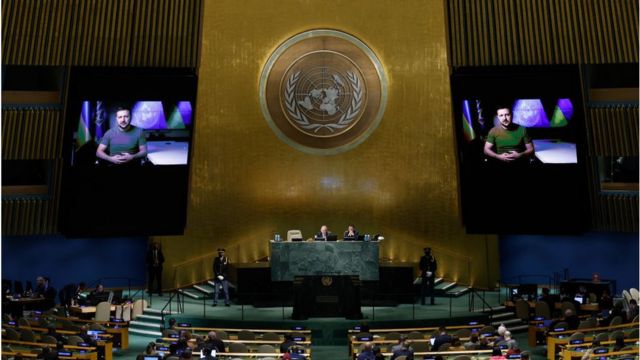 Russia must face "just punishment" for its invasion of Ukraine, President Volodymyr Zelensky told the General Assembly in New York on Wednesday.
In a pre-recorded video, the Ukrainian leader called for the creation of a special war tribunal and detailed Russia's alleged war crimes in the invasion of Ukraine.
He also established a "formula" for peace, including more military support and punishing Russia on the world stage.
His speech received a standing ovation from many of those attending the session.
"Illegal War"
In his introductory remarks, Zelensky accused Russia of causing "catastrophic turmoil" with its "illegal war."
The president spoke on the same day that Russian President Vladimir Putin called up 300,000 reservists to support his military operations in Ukraine, an announcement that provoked unusual protests in the streets of Russia.
Zelensky said the move showed his enemy was not serious about peace talks.
He also condemned recently announced plans in the areas of his country occupied by Moscow troops to hold referendums on joining Russia.
The creation of a special court would help Moscow be accountable "for stealing territory and murdering thousands of peopleZelensky said.
The president referred to the discovery of 445 new graves in Izyum, a city in northeastern Ukraine recently recaptured from Russian forces during a Ukrainian counteroffensive.
Zelensky detailed allegations of war crimes in the city, including against a man who was allegedly castrated and killed.
"Why is the Russian military so obsessed with castration?" he asked.
face consequences
The word "punishment" appeared some 15 times in Zelensky's speech and was the first of his five non-negotiable conditions for peace.
"Russia must face the consequences of its aggression," he said, through more sanctions against individuals and the UN stripping Moscow of its powerful role as a permanent member of the Security Council.
He also called for the lives of Ukrainians to be protected and for the country's internationally recognized borders to be respected.
As his fourth and fifth conditions, he called for new security guarantees for Kyiv and for the world to unite in denouncing Moscow's armed aggression.
Wearing his trademark green t-shirt, the Ukrainian leader thanked the 101 UN countries that voted to allow him to address the assembly by video rather than in person.
He criticized the seven countries, including Russia, that voted against his video appearance, and questioned those that remained neutral during the conflict.
Despite Zelensky's suggestion that Russia was not serious about peace talks, the two nations completed a major prisoner-of-war swap on Wednesday.
More than 200 fighters were returned to the Ukrainian side, including 10 foreigners, while Russia received 55 soldiers and pro-Russian politician Viktor Medvechuk, who was facing treason charges in Ukraine.
Remember that you can receive notifications from BBC News Mundo. Download the latest version of our app and activate it so you don't miss out on our best content.